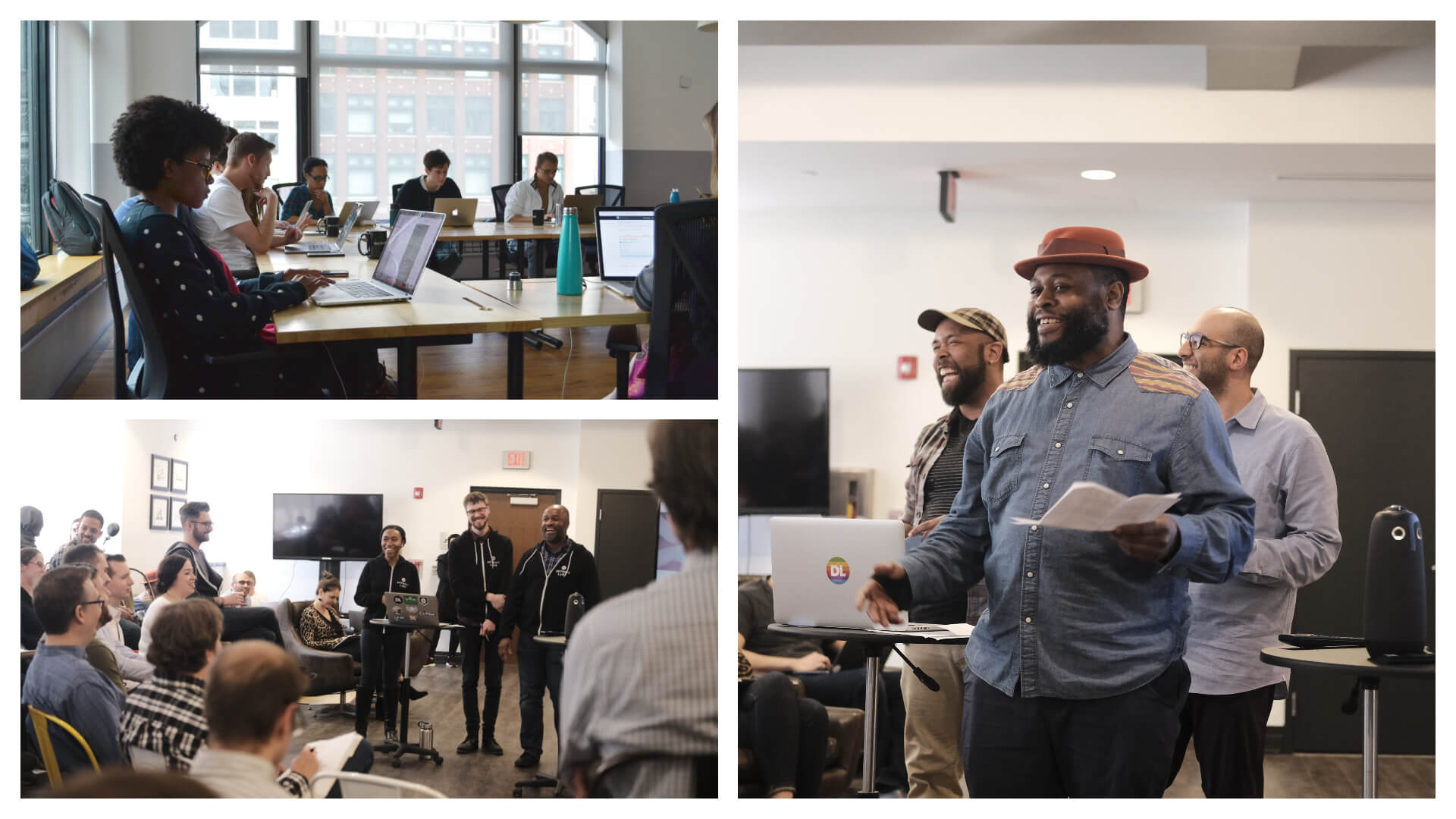 Ford, Detroit Labs Create Tomorrow's Talent Today with Apprenticeship Program
Originally posted on Ford Website by Drew Kidd
Kim Sfreddo faced a daunting task one afternoon while flipping through a stack of résumés looking to find a new software engineer.
"You invest a lot of time and energy going through résumés, interviewing and on-boarding applicants just to see they're not working out after a few months," said Sfreddo. "Then you have to start all over again, and in this fast-paced environment, we need to deliver."
That's when Sfreddo, a mobility platforms and products connected vehicles supervisor, realized her team needed a different solution if they were going to be agile enough to create tomorrow for Ford Motor Company. So they partnered with Detroit Labs to customize a three-month boot camp for prospective software engineers in southeast Michigan.
Detroit Labs offers a three-month paid apprenticeship program to provide immersive training in software development, mobile development and quality assurance engineering. Apprentices receive hands-on training and work side-by-side with Detroit Labs team members to gain experience in software creation. Upon completion of the program, apprentices are offered a full-time position at Detroit Labs or with a partner company – Ford, in this case.
"The program they're running is very elaborate and meticulous in terms of selecting candidates," said Igor Reznick, a connected vehicles product management leader. "We're making sure they're the right fit culturally for what Ford is doing." Of the 300 candidates who applied for the apprenticeship program, 11 went on to join the Ford team as software engineers, he added.
These new hires are helping Ford refine its over-the-air updates and location-based services – key connected vehicle functionalities supporting the company's mobility ambitions. Several location-based services teams are involved in delivering critical products for Team Edison's battery electric vehicles, including features like trip planner, or consumer-facing services like Amazon delivery straight to the vehicle. Over-the-air development is necessary for future connected vehicles as well.
"Over-the-air capabilities are a key enabler for any future vehicles we build," said Reznick. "They cover the vast majority of in-vehicle capabilities, including infotainment and user experience. As apprentice graduates with diverse backgrounds, these new additions to Ford bring a fresh perspective and inject a great deal of positive energy into our teams, which continues to transform our company culture."
Sfreddo said the cultural and technical skill sets required for people in connected vehicles is hard to find. "What differentiates Detroit Labs is their extensive vetting process; they're taking all the risk out of it for us," she said.
Sfreddo knows all about taking chances when it comes to shuffling résumés. "Every single person we get from Detroit Labs has been very successful in our environment and has been a valuable add to our team," she said.
Kareem James, a software engineer on the connected vehicles team, joined Ford in April following completion of his Detroit Labs apprenticeship. James, who owned an IT company in the Bronx, took a chance and relocated to the Motor City to pursue the apprenticeship. Now, he's working on the Ford Connect application programming interface. He said the three-month apprenticeship not only taught him coding skills but essential habits for working in a fast-paced environment.
"They threw so much at us inside of those three months that you have to be able to constantly pick up new things, digest them and get your bearings quickly before moving on," said James. "And you don't have time to figure things out – you have to be able to dive in and ask questions when you need help."
Anna Sampson completed her Detroit Labs apprenticeship in 2016 and works as a software engineer with one of Ford's over-the-air product teams. Sampson said completing her apprenticeship meant recognizing what she didn't know. "Being willing to admit I don't know something and that I have to look it up is something I'll take with me everywhere," she said. "You have to be willing to try something new because you don't know what you're doing at first."
Sampson said the apprenticeship helped her adapt to the culture of Ford's connected vehicles team. "Connected vehicles are an up-and-coming space, and we do a lot of things differently from other parts of the company," she said. "Everyone is super open-minded and collaborative, and there's generally a lot of cross-team conversations."