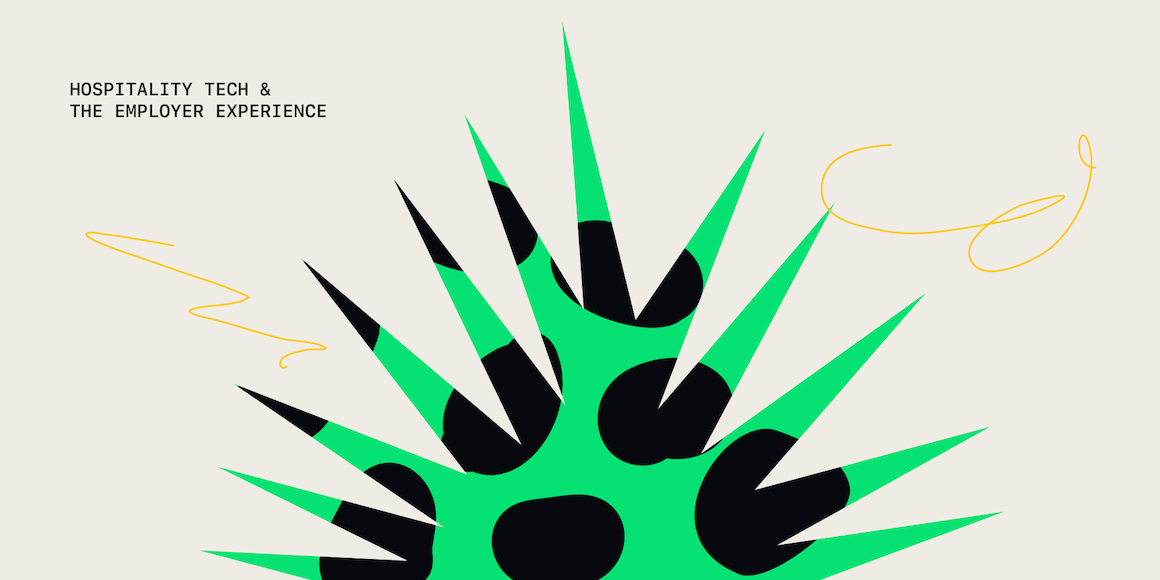 Hospitality Tech & The Employer Experience
Flash back to March 2020. Schools closed, streets emptied, and your usually booming hotel sat empty as reservations got canceled. Although we don't need to relive all the details of the COVID-19 pandemic, every industry felt its sting from an employment standpoint.
Today, the clouds are lifting, but the hotel industry will need to evolve as hiring and staffing continue to be difficult. Technology has the potential to make a difference, improving efficiencies and supplementing human labor. Learn how tech can improve the digital customer experience and fill in the gaps left by a dwindling labor force.
Learn how apps, kiosks, and more enhance guest experiences. >>
Current experience
The last two years have been rough. The World Travel and Tourism Council estimates that approximately 121 million of the 330 million worldwide tourism jobs were lost in 2020, and the recovery is slow.
Technology typically grows in fits and starts, depending on the industry. Hospitality is one industry that has historically lagged, so hotels that already had contactless check-ins and messaging software had an early edge in maximizing efficiency and providing a quality digital customer experience. But some experts estimate that COVID-19 advanced digitization by several years. Translation? We suddenly needed tech tools to get things done, propelling innovation.
Hotel tech trailblazers
You don't realize how much needs to get done until team members get sick, you have to shrink your workforce, or it just isn't realistic to be on-site 24/7. Luckily, various hotel tech solutions automate everyday tasks, even when you're in a crunch.
SiteMinder provides real-time data via its World Hotel Index and allows hotels to manage everything from bookings and payments to partnerships with travel providers.
Atomize is the predictive tool that helps venues plan, identifying high-demand dates up to a year in advance so they can adjust pricing, manage staffing, and save time.
Improvements to the industry
How do we keep moving forward? According to the AMERICAN HOTEL & LODGING ASSOCIATION, hotels are projected to end 2022 with 2.19M staff– down 7% compared to 2019. Hospitality technology has the power to move that needle and create better digital customer experiences to boot.
Whether your hotel underwent a round of layoffs or staff members moved on to new opportunities, you're probably doing more with less. Technology automation helps you streamline duties that can be labor-intensive and creates opportunities to reassign existing team members to more stimulating jobs.
Recruiting tools
Tech tools can provide a long-term boost, but you also want to recoup talent. Start with cloud-based human capital management systems and create career pages for new openings to get the ball rolling.
Scheduling tools and facial or app-based clock-ins
AI-enabled labor management technology can create a flexible workforce by forecasting demand and scheduling to ensure operational efficiency, such as staffing heavier during peak hours. Tools for both scheduling and clock-ins make things manageable for you and your team and create efficiencies that reduce long-term labor expenses.
Virtual concierge
When you give guests the keys to the kingdom, you make things easier on the front desk. Kiosks and apps provide a 24/7 virtual concierge for guests to get information and send messages, increasing your lobby's functionality and shortening the line at the service desk.
Self-ordering kiosks
Labor shortages and inefficiencies extend to the back of the house, and tech can also give these operations a hand. Reduce the burden on room service and kitchen staff by allowing guests to order and process payments on a device—or even by integrating those features into your app.
Digital customer experience successes
It's one thing to explain what hotels like yours could do with technology to facilitate a well-rounded staff and customer experience. But actions speak louder than words. So who's getting it right and how? Consider these case studies:
Amadeus Hospitality
Operational efficiency is essential for hotels to thrive. HotSOS by Amadeus Hospitality delivers a seamless digital customer experience by integrating front-of-house (FOH) and back-of-house (BOH) operations. When guests approach your team for something—from maintenance requests to housekeeping jobs—the front desk pushes the request directly to BOH departments for prompt resolution.
Axxess Industries
Room service and housekeeping stay in sync with tray detection technology. The Umstead Hotel and Spa in Cary, N.C., uses tray detection from Axxess Industries to enhance its housekeeping operations. When a guest puts a tray outside their door, housekeeping is alerted by sensors in both the tray and doorway so that messes get cleaned up faster.
The future of hospitality employment is tech-centric
COVID-19 threw our lives, the economy, and the hospitality industry for a loop. However, there's always a silver lining. A situation that's been nothing short of exhausting has ultimately become rewarding as technology surged way beyond its years.
Today, we're automating operations to please both sides—providing enhanced digital customer experiences and alleviating staffing burdens. We're on the right track, and the future is bright.
Want more stories like this? Subscribe to the Detroit Labs blog for expert technology insights.