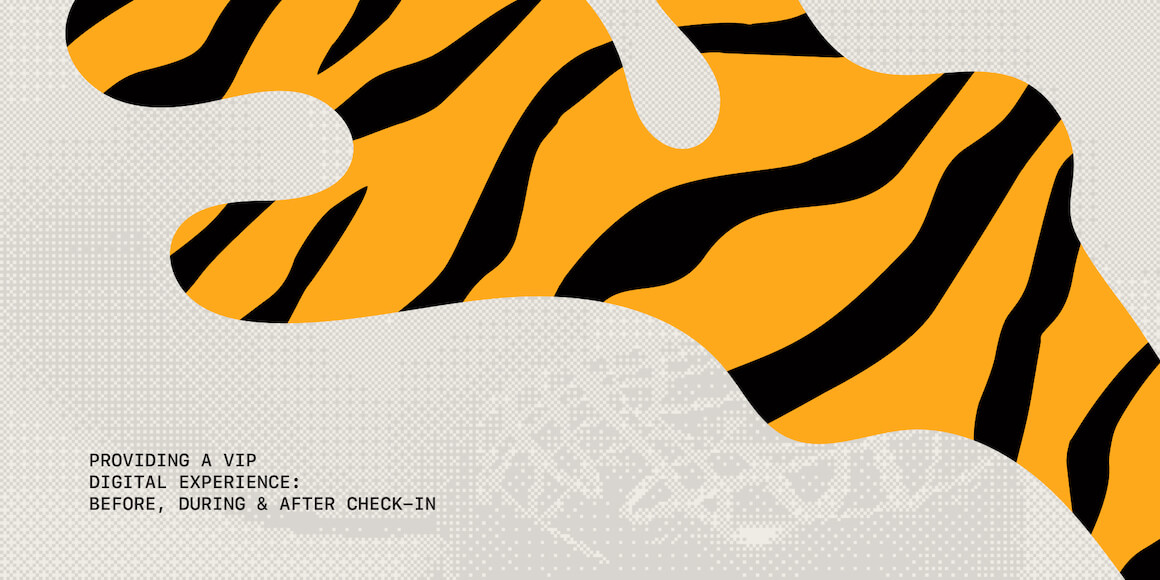 Providing a VIP Digital Experience Before, During, and After Check-In
Once upon a time, travelers partnered with travel agents, ate the boxed lunches on airplanes, and bugged the hotel front desk to check-in. This version of travel has gradually dissipated over the years, replaced by the internet and mobile devices.
The result? Hospitality technology isn't a luxury—it's a business need. Digital customer experiences are essential to help venues like yours thrive as the industry changes. Learn how to earn an A-plus before, during, and after check-in.
Learn how apps, kiosks, and more enhance guest experiences. >>
The current state of hospitality
"The old gray mare, she ain't what she used to be." You don't need to work in hospitality to know how hard COVID-19 hit the industry. Lockdowns, canceled reservations, and social distancing shook the business at its core. And although we've adapted to the shifting landscape, a significant rebound is likely delayed until about 2025 due to inflation.
The American Hotel & Lodging Association (AHLA) 2022 State of the Hotel Industry report highlights the ongoing twists and turns in the hospitality industry. People are traveling again, but more conservatively. Case in point: Business travel in 2022 is below pre-pandemic levels, with about one-quarter of meetings using a hybrid model. And for leisure and business travelers alike, spending on ancillary services such as food and beverages or meeting spaces is still taking a backseat.
But there's light at the end of the tunnel. Room demand and revenue are finally close to pre-pandemic levels. Occupancy is expected to reach about 63 percent this year, nearing the 66 percent rate in 2019. How can you not only get over that hump, but also come out stronger on the other side? Technology may be the answer.
Today's hotels need to be more than just centrally located and affordable. Liselotte De Maar said it best in the AHLA report: "Travelers are now not only focused on price and quality of a location, but also on cleanliness and sustainability values and impact, and expect a clearer, more digital service."
Improvements and trends in the hospitality industry
Digital customer experience isn't just about having a good website or a functional app. We are way past that! Technology can do so much more, and you should too. Focus on what it can offer your guests, such as automation and enhanced amenities.
Automation
"The robots are taking over our lives!" Not necessarily, but it does seem like automation is the key to competing.
Consumers are simultaneously more self-sufficient and reliant on tech tools, which is less of a conundrum than it sounds. It just boils down to being able to do more and do it quickly and independently. That said, the industry is advancing in three core areas to give travelers what they need:
Always-on communication: Consumers expect on-demand service. Communication features—such as live online chat and chatbots—deliver instant customer service and even a direct line to loyalty programs.
Contactless self-service options: Between hygiene concerns during the pandemic and mobile phone convenience, customers find it appealing to limit interactions with staff. With new tech, guests can quickly make or cancel reservations, check in and out via apps, and use digital keys, reducing labor costs so you can meet expectations despite labor shortages. Food for thought? PricewaterhouseCoopers estimates that by the early 2030s, 25 percent of jobs in hospitality will be automated!
Artificial intelligence: When AI uses customer-provided tech (e.g., smartphones) in tandem with what you provide in your venue, it can do anything. Guests could take advantage of virtual concierge services, or you could gather insights from smart systems such as thermostats, which learn guest preferences and automatically set the ideal temperature.
Tech amenities
Free cable and a computer in the lobby? Think bigger. Today's technology amenities expand what guests can do across the property, making their stay frictionless and enhancing the digital customer experience. Some features stand out from the crowd:
Wi-Fi: It's not new, per se, but hotel Wi-Fi is certainly more robust. Guests don't have to sit at desktop stations or call the front desk for the password. Instead, it works seamlessly throughout the property, enabling customers to sit poolside with their phones or work remotely from their rooms.
Connected conference rooms: We've evolved past sterile auditoriums with 100 seats and a simple projector. Instead, hotels can better serve conferences, business meetings, and solo business travelers with videoconferencing technology and smart whiteboards.
Streaming: Bye-bye, pay-per-view. It's easier to simply offer access to streaming services. CoStar revealed that a whopping 40 percent of guestrooms stream content. It's no wonder Hilton partnered with Netflix to let guests stream right from their Hilton Honors app.
Voice activation: Where's Alexa when you need her? Hopefully in your hotel rooms. Voice activation tech gives guests more control, enabling them to order dinner, turn on the lights, and more via in-room devices.
Look toward the future of hospitality
This isn't your mom's hospitality industry. Calling for reservations? Nope. Ringing the front desk for towels? Nuh-uh. Today's customers are tech-savvy and demand venues like yours to be too, whether that means creating a booking app or having the latest tech tools in every room.
Continue to grow your digital customer experience to keep up with the demands of these consumers, including Gen Zers and millennials. They expect quality experiences and service. Of course, they also define "service" a little differently, like being able to send a text to report issues or quickly leaving online reviews. One in three millennial guests will pay up to $50 more for hotels that provide better service, and 58 percent use online reviews in their decision-making process.
You can't afford to ignore the changing landscape of travel. Incorporate a digital experience to win customers over before, during, and after check-in. Want more digital customer experience insights? Subscribe to the Detroit Labs blog!