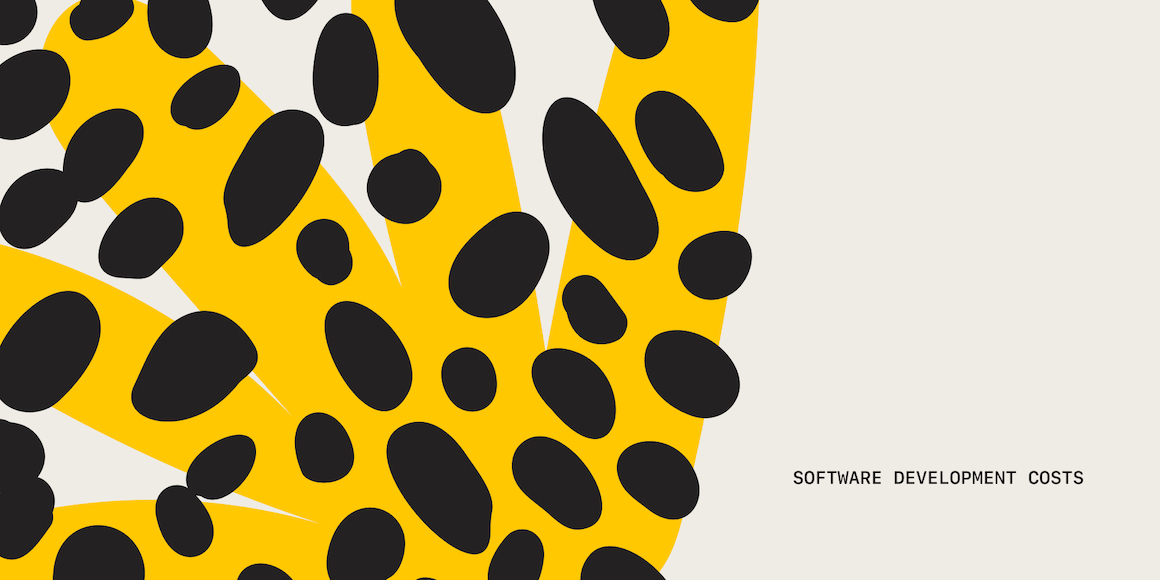 The Elephant in the Room: Talking About Software Development Costs
Technology makes life easier, but there's a big elephant in the room when brands decide to jump into the deep end and create their own solution: software development costs. Custom software development comes with a sizable price tag.
As a conservative best practice, you should plan on budgeting 150 percent of the estimated costs to protect yourself from uncertainties during the build. However, unlike a swanky new pair of kicks that will get beat up and dirty quickly, apps and software products are designed for the long term.
Hot take: Don't worry as much about the number as the actual product you deliver. Hard as it may be, cost should be secondary when building an app. In the grand scheme of things, that number is just a sliver of how your software will impact your organization. Don't let dollar signs make your decision or dictate who you choose as your partner.
Dig in to reframe your thinking about software development costs and learn how to choose the ideal development partner.
Tips for finding a software development partner. >>
The bottom line
Most companies start here, thinking about the cost of the project and other details that impact their financial outlook. They muse over questions like:
How could the end result serve my bottom line? How could it increase my company's valuation over time?
Launching a new product or platform, even when it's your MVP, has the potential to turn on a new revenue stream, but think bigger than the bottom line. There are other long-term ROI considerations to take into account. Stock prices, profit margins, and marketability for M&As are just some of the things to consider when evaluating the costs of the project.
Example: Jimmy John's turned to Detroit Labs to design and build out their mobile apps, which had an instant impact on revenue through their mobile channel—an investment that ultimately paid for itself.
Upfront costs and desired bottom-line outcomes aren't everything. We know that's a bitter pill. But rather than focus solely on what you're spending and earning, refocus your binoculars to see the bigger picture.
The greater good
Step back and think about how your new software could make an impact over time. Software is never one and done. Just like you don't build it and forget it, you also don't build it for no reason. Maybe there's a social need you wish to address, or perhaps you're picking up the slack for similar solutions that don't fulfill user needs. Whatever the case, you're in it for the long haul, and as such, the upfront investment will pay dividends over many years.
Example: Your software solution identifies and tracks vacancies at homeless shelters. As part of the platform, you place accessible kiosks around the city for individuals to use free of charge, showing both current shelter vacancies and simple directions to find each one. The software has a social focus—to decrease homelessness—but is positioned to serve the community and infrastructure over time.
Unique pain points
Every industry has a unique value proposition, and custom software helps solve unique problems. Can your investment help with a specific pain point? Ask yourself a few questions to uncover the larger impact of your solution:
What's my vision?
What am I trying to accomplish?
What's my long-term roadmap?
You need to know that your software solves a problem instead of being another shiny object. Determine what's most important. Do you need to get something to market by a certain time to serve a need and remain competitive?
Example: Customer behavior did a rapid about-face at the onset of the COVID-19 pandemic. People weren't shopping in stores with much frequency—even though their human needs had not changed. You own a supermarket, and not only were your sales down, but your customers also couldn't access what they needed. So you jumped on the digital bandwagon, making it easier for consumers to purchase from you online and pick up via curbside service.
Attributes of good software development partners
Shift your mindset away from the dollar signs associated with software development costs and prioritize what you're building, why you're building it, and who is helping you get it to market. As for that last part? Find a development partner that you trust will build the right solution for you.
Your partner should be skilled in several areas to do right by you and your end users:
Providing right-level support
Your company hires professionals for their expertise. To that end, the development partner you choose should work with you to understand your needs and provide the right amount of support. They should never upsell you or overcharge for something to feed their bottom line.
Instead, your development partner should set you up for long-term success, whether your product (and resources) roadmap includes them or not.
Seeing the forest through the trees
No matter how solid your product roadmap, development is unpredictable. A feature that seems simple might be difficult to code. Answering one pain paint might give way to broader utility. Expert developers work with you to address unforeseen obstacles or new opportunities.
Let's say your partner uncovers new ways for software to bring value to your organization.
Example: You're building a puppy adoption app. Strategy A would deliver a quality app for users who want a place to adopt homeless puppies, but the technology has a few hiccups for the price. Your development partner discovers that they could instead use Strategy B to successfully meet your goals, deliver a cleaner experience, and save you $7 million a year.
Collaborating to deliver excellence
All the pieces of the pie have to come together to create the best software solution. This means both sides have to go all out. Your best-fit development partner brings their wealth of expertise to the table, and they do so with your best interests at heart.
Each side is a subject-matter expert (SME). You bring the subject-matter expertise of your organization, whereas your developers provide the technical knowledge of software development and best practices to deliver a quality product. Your partner should leverage your knowledge—about your company, industry, and target users—to collaborate with you on the product and track and measure success.
Prioritize what matters to your software project

Software development costs don't have to be the elephant in the room that everyone tries to squeeze past. Instead, building a new software solution is about problem-solving for the long run. Don't get us wrong—the investment matters, so always keep your budget in mind. But think about the product's impact first, and don't forget to partner with a development team that will look out for you along the way.
Ready to build a new app? Get in touch with Detroit Labs to discuss your project.