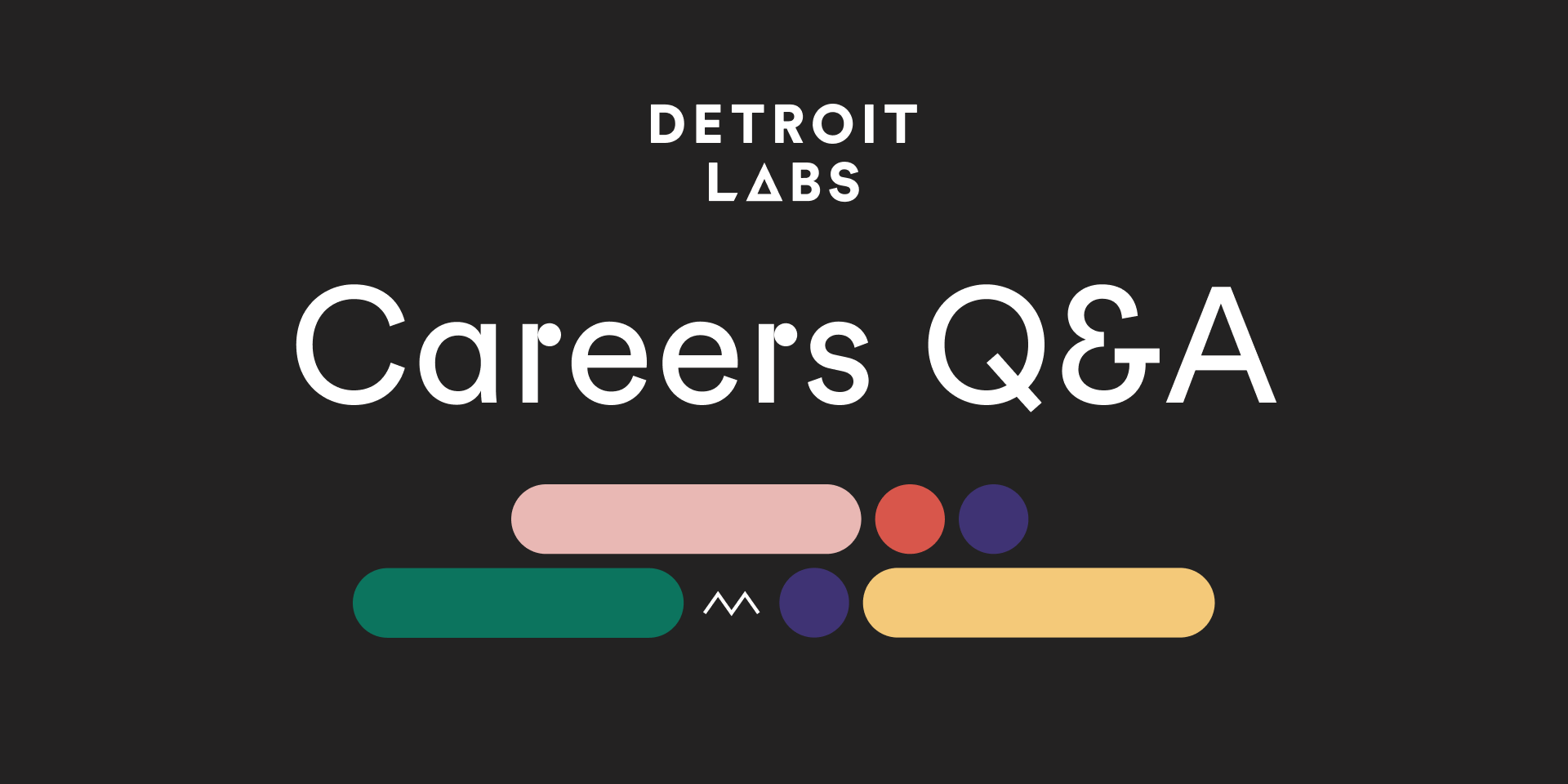 Detroit Labs Careers Q&A: 2022 Open House Panel
Detroit Labs Talent Specialist Rowan Blaisdell and Talent Engagement Coordinator Pedro Gutierrez were joined by developers Lauren Small and Eric Blancas, delivery lead Jackie Michl, and quality engineer Joe Double to answer your questions related to career growth, working at Detroit Labs, and what our hiring/application process looks like.
We've captured the Q&A for you here. You can also watch the full panel discussion on our YouTube channel!
Team Member Introductions
Rowan Blaisdell:
So Labbers, could you tell us what your name is, what your current role at Detroit Labs is and how long you've been with Detroit Labs. And then also tell us a little bit about how long you were in the industry before you joined the company.
Lauren Small:
Certainly. Hi everyone, my name is Lauren Small. I am an iOS developer at Detroit Labs. I've been with the company for about three and a half years. I started off as an iOS apprentice. I did have some development experience before joining the company. So I worked in the engineering department for a different company for about a year, but I really only had about three months worth of experience doing backend development there. So Java, PostgreSQL and a bit of Spring Boot.
Rowan Blaisdell:
Awesome. Thank you, Lauren. Joe, would you like to go next?
Joe Double:
Sure. Let's see. My name is Joe Double, I am a quality assurance engineer. I started at Labs actually through the job apprenticeship and then ended up switching over about a year and a half in of being a Java developer to being a QE. Before coming to Labs, I had maybe about five or six years in the industry. I did tech support, CIS admin work and then decided to jump into programming after learning to do some PowerShell scripts. I was like, "Oh, this is kind of interesting." So yeah, so that's me.
Rowan Blaisdell:
Awesome. Thank you, Joe. Jackie.
Jackie Michl:
Hi, I'm Jackie Michl. I'm a delivery lead at Labs, and I've been here for like four years, almost exactly. Like a couple weeks over four years. Within the industry kind of for about five years prior to that, but I was more on the marketing side of the industry. So like kind of your standard like brochure website development sort of situation, as opposed to custom software. I think that was it, right? Yeah.
Rowan Blaisdell:
You got it. Last but certainly not least, Eric.
Eric Blancas:
Hi everyone, my name is Eric and I've been with Detroit Labs for almost a year now. So I'm fairly new and I've been in the industry for maybe about close to five years now, and I've been bouncing around on the place. Before Detroit Labs, I've worked in PHP, I've worked in iOS. So JavaScript was my main door name, so that's what I wanted to work in Detroit Labs.
Q&A Panel Discussion
How did you hear about us and what made you decide to join Detroit Labs?
Lauren Small:
Yeah. All right. So honestly, I was just looking for a new job. Since the company I work for had massive layoffs each month. They actually did layoffs twice a month, in the middle of the month and at the end of the month. And a lot of projects were being sent overseas, especially to India and Turkey because labor is cheaper. So a bunch of cost cutting. So I eventually did get laid off because I was a contractor and they were not extending my contract for the reason I just mentioned.
I would say it was just by chance I discovered Detroit Labs. I was looking for work, I think it was a Google search that put Detroit Labs on my radar. I saw they had an iOS apprenticeship opportunity and personally, I'm just a curious person. I was or am rather the type of person that likes school. I figured why not learn something new. As I looked into the company and more specifically the iOS apprenticeship and the apprenticeships they did in the past, it seemed like a very popular program.
I definitely did not think I was going to get in. It seemed like it was very competitive, but I applied and gave it a shot and miraculously got accepted into the iOS apprenticeship. I'm still unsure how this happened to this day. Oh, for the record, I know I mentioned I had some development experience prior to joining Labs, but I didn't have an engineering background.
So my undergrad degree was in biology. I took a few non-credit continuing education courses at U M-Dearborn and somehow got a position at the company I previously worked for. So some of my apprentice peers didn't have a college degree. And I think that is one thing I really liked about Labs. It's not about a piece of paper, a degree in this case. It's about your potential, like who you are, your character, how you work with people, how you solve problems.
The company really welcomes everyone's differences, and that I really like. Technical skills can be taught. Teaching soft skills, this is just my opinion, tends to be a little bit harder. So one more thing, and I promise this will be the last thing I mentioned. I really like Labs' people's first approach. The company really means it when they say it. If you need a break from work, your  team and the company's there support you. Especially now in times of COVID. Yeah, that's it for me.
Joe Double:
Yeah. And make me go after Lauren's great answer. I'm like, "Oh, let's see." I don't remember how I learned about Labs. I think I was in that same boat. I was like just working and I just knew I wanted something different. I wasn't miserable at the place I was, but it wasn't fulfilling. It was just one of those I would show up and just do the work and just go home.
And so I remember learning about Labs and then looking into it. And I think there was a podcast or a video on YouTube or something from [our previous VP of People Development] and she was talking about Labs and I was kind of like, "Sold, got to go, got to check it out." And so then I ended up signing up for the newsletter, thinking about the apprenticeship and being like, "Okay, the next time there's an apprenticeship, I'll go and give that a shot."
But I even remember filling out that GTKY for the apprenticeship, deleting it and then the day before they're due, my husband's like telling me, "Did you fill it out?" I'm like, "No." Because I'm like, "Why am I going to be able to get it?" So then I ended up just filling it. He was like, "Just fill it out." It was almost like that whole scene from the office, you miss a hundred percent of the shots you don't take that Michael Scott said.
And so it was just one of those, okay, I filled it out and I made it. It was shocking for me because it's one of those things where you just, I don't know if it's imposter syndrome or what where you just feel like, "I'm not going to be better than all these other people that are also applying." But when you go through that GTKY process and you go through that apprenticeship process, you realize Labs is a people first company.
It's honestly like one of the first places I worked where I can feel like I could be my full authentic self, and I don't have to censor pieces of me *sorry, my dog is playing with a toy* I don't have to censor pieces of me or be like, "Oh, I can't show this part of me today because this person might be offended," or, "Oh, I don't want to upset that person." So it's nice that I could be my full authentic self every day at Labs.
Jackie Michl:
Yeah. So I'm not sure how many people at Labs or on this panel know this, but I'm actually originally from Milwaukee, Wisconsin, not Detroit, Michigan. When I applied to Labs four years ago, that was a bigger deal than nowadays when almost everyone's working remotely. But I was just looking for a change. I wasn't feeling super challenged anymore from my previous position where I'd been for five years and the company I was at was really small. We were about seven to 10 people. So there was only so much room for growth. We didn't have a portfolio or the types of developers required to pursue the types of custom projects that I really had an itch for. And so I was looking to potentially move to Detroit at the time. And so I literally just Googled "software development Detroit" and Labs happened to be the first option that showed up.
But what was really appealing to me about Labs was I'm someone who's always anxious for growth. I am very interested in choosing my own path and paving my own way and doing things the way that I want to do it while also listening to everyone else at the same time. I'm not too self-centered, but one thing that really appealed to me about this Delivery Lead role was how multifaceted it was.
It was aspects of project management, scrum master, account management, business analyst. And so I felt like by applying for this particular role, I was never going to be pigeonholed and that I could, and this was reaffirmed in the interview process, make the role what I wanted it to be and no one was going to tell me exactly how to do this exact thing. But I could really insert myself into that position. And that was what was really appealing to me when applying to Labs and made me decide to work here, aside from all the other reasons that everyone has said, I won't repeat those.
Eric Blancas:
Gosh, all such great answers, but it's pretty much going to sound the same as Joe and Lauren's. Initially, when I first applied to Detroit Labs, I heard about it through a friend that currently works at Labs now. And I just heard so many good things about the culture and the experiences at Labs which really drew me. My previous company was a little bit of a toxic work culture. And I felt as if I needed a change of pace, a change in culture.
Detroit Labs' culture has really kept me opening to being my full self. I get to express what thingsI get to learn and things like that. And everyone around me is just so positive, and they're there to support you. Even if I'm going through troubling times or having specific blockers on projects, they're always there to help. And that's one of the main things that's drawn to me to Detroit Labs, that my growth keeps constantly going up as I'm here.
What has been your favorite part about your role and/or working at Detroit Labs?
Lauren Small:
This is going to be kind of generic, but it's true. I think there is hardly a dull moment. I guess my favorite thing is just figuring out how to solve problems, unique challenges. There is variety in the tasks I complete, so that keeps work interesting.
Eric Blancas:
Definitely for me is that as well. At Labs, working with the people around you and working with your teammates is definitely my favorite part. There's so many brilliant minded people at Labs that we have like a smart community that there's never really one thing that you can be learning. Everyone is different at something. And when it comes into play it's "Oh, you get to learn this. You get to learn that from this specific person." So definitely working with or collaborating with different people at Labs is one of my favorite parts.
Jackie Michl:
I think for me one of my favorite parts is, I kind of alluded to this earlier, but I am constantly looking for something different and new, and I never want to get bored. And one way that working at Labs, not even just with my role specifically, but being a part of the Detroit Lab Services team is that outside of working on your client project, you have an opportunity to contribute to organizational initiatives or even find them, discover them and drive them on your own.
So one big thing for me that me and a few other people at Labs were a part of a year or two ago, was developing an app security training program that had nothing to do with the project work we were on. We were just a group of people who were passionate about application security. Me, I was super interested in PCI compliance, because I'm a nerd like that, I guess.
And we thought it was important to have a more structured and formal process for training within the organization. And so we were given the opportunity to develop an internal security training. It's like a full day or was a full day long training. Right now we've consolidated it to about four hours worth of digital training through videos, but that impacted the entire Services company. Everyone needs to take that training right now. And no one in leadership told us to do that.
We just said, "Hey, this is important to us. We think this is important for the organization." And the company gave us the opportunity to see that initiative through and bring it to the whole company. And I think when you're able to contribute to an organization outside of just your project work like that, you achieve a whole other level of fulfillment within your career and you gain skills like teaching and training skills, course development skills that I never would've been able to develop had I only or had I been told like, "No No. You need to focus on your project work." So that's been cool to me.
Joe Double:
And I'll jump in with one last thing. For me, the thing I love the most about working at Labs is the feedback. I love being able to get feedback from people or give feedback to people as needed. It's nice when you're working on something in your head down and you know you're grinding and putting in the work. So it's nice when somebody else in your team is like, "I see you, I see what you're doing and I appreciate that." It's just nice. It's nice being able to appreciate it when you're working on something.
What has been the most challenging part about your role at Detroit Labs?
Jackie Michl:
For me, the delivery lead role, like I said, wears multiple hats and one of those hats is the day to day liaison between the project team. So our internal Detroit Labs team and our client. And while we both have the same goals in mind, we're all in this partnership working towards the same or hoping for the same outcome, some of those desires between the project team and between the client can be at odds with one another. And so the most challenging part of my role is sometimes managing that sort of dynamic, making sure that we're balancing our client needs with our project team needs.
Because one thing that's really important at Labs is again like we're people first, we're not the type of company that's going to be like, "Okay, whatever the client says goes." So now you're working 80 hours a week. That is definitely not what we want at Detroit Labs. And so the delivery lead role is often trying to stay on top of that dynamic, managing that healthy relationship and fostering collaborative solution oriented problem solving between the client and the team where everyone's best interest is at heart.
Lauren Small:
I can, I'm collecting my thoughts. All right. From a developer perspective, I guess working with other people's code can be challenging. Often developers have very different opinions on something, how something should be implemented. I've had very many long meetings debating things like this with my last team, but we always have fun doing it. In the end, we work together to find a solution that works, it's understandable and maintainable to the best of our abilities.
Naming is a big thing that comes up too. People have very strong opinions on names. It might not seem trivial, but naming is hard. My team is pretty down to earth and my last team as well. And no one takes offense. We all realize it's not personal. We all want the best outcome. I guess with this challenge in mind, a lesson I learned in my software development career is that there's no perfect way to write code, but we do our best with the solutions we come up with.
Eric Blancas:
I guess that one challenge that I've succumbed to during my projects is that depending on which project you're on, sometimes the change of pace can actually happen. Whether it be pivoting towards another idea or pivoting towards to this idea. And then to me, it's a challenge, but also at the same time, it's my most favorite part. Sometimes within a different company or a client, changes can actually happen. And to me, that's the most fun part in the challenge is that you get to think about the processes and think about like, "Okay, this step, is it going to be good for my team?" Or, "Do we need to make certain changes around how we operate things on the project? On the team?"
What has your experience been with the culture at Detroit Labs? Kind of an open-ended one but, alternatively, how would you describe the culture at Detroit Labs?
Joe Double:
I'll jump in. We say we're people at first and we really are. You hear buzz terms from other companies, but Labs really is people first. Even with people on my team, I genuinely love them. I love working with them. Even my cat, I got from one of my team members because he found it in a box by a dumpster. So it's like, I don't know any other company I'd worked at where something like that would happen. Where, yes, you're all working together, but you genuinely do care for the people you're working with.
Lauren Small:
Yeah, everything that was just said. I think I could summarize the culture of Labs as welcoming, encouraging, fun. I think Labbers are pretty down to earth. And Jackie touched on this already a bit, but as I mentioned, Labs really encourages growth; professional, interpersonal, you name it. The atmosphere really challenges or encourages you to challenge yourself.
Some fun things the company does, or each team, is we have monthly team funs. So even today I played PowerPoint karaoke for the first time. And if you have no idea what that is, you're given a set of slides, you don't see them until you're about to present. So you have to come up with a presentation from the top of your mind, right off the bat. It's fun. It's funny. Yes, yeah. I wouldn't say how that one went for me, but things like that.
We have mentorships. For instance, if I was curious and wanted to learn how to become a QE, I can pair with a QE for instance, and learn the skills needed to do that or work on some kind of projects. Yeah. And I don't know, we just have fun. We work, but we also have time to tinker the company when we show off what we work on to the entire company on hack days, things like that. So it's not all work, there's also fun and games, I would say.
Jackie Michl:
I think building off of the fun aspect of stuff. One thing I really appreciate about Detroit Labs compared to our clients in particular is that they do encourage the sense of connection and community outside of just the work. And so anyone can create a Slack channel for any kind of interest or hobby or topic. And it's almost like our own little social media platform, which I need to remove myself from sometimes.
And so you can make connections with people through these different Slack channels and people will get together to do things outside of work related to their hobbies. And for me, that encouragement was really important because again, I'm not from Michigan, I don't know anyone here or I didn't know anyone here when I moved here. And so it was a way for me to start finding some sense of belonging in this new space and particularly over the last couple of years and during mandatory work from home, that was my connection to people because I physically don't have family or a ton of friends outside of my coworkers in Michigan.
And so if Labs hadn't encouraged that from the get go, it could have been a lot harder for me to combat loneliness in my studio apartment with my cat. But that's one thing I really appreciate because there are some companies like some of our clients too, that don't encourage that kind of connection in their Slack. Only a couple people can create channels and no hobbies or interest channels allowed. So that's something that I appreciate.
For previous OnSite team members, Joe and Eric, what was that experience like working OnSite for Detroit Labs?
Eric Blancas:
I guess for me, since I've recently transitioned into Services. The amount of differences between Services and OnSite didn't feel as different towards me since I was on the specific project. But for OnSite, what really stood out to me was the fact that there was a lot of collaboration with the clients. You get an exact feel of what it's like to be a part of their company, what essential things that they're working on. So there was a lot of collaborative moments that I got to be a part of when I was OnSite. So I would definitely say the collaboration is what stood out. Other than that, it pretty much felt the same.
Joe Double:
Yeah, I'm pretty much in the same boat as Eric. I started as OnSite, moved over to Services and it's surprising how similar they are, because like you still get that same level of support [from Detroit Labs] when you're OnSite that you get from Services. It's like you have check-ins, you get feedback from people. It was a lot easier than I thought it was going to be coming over to Services from OnSite because like Eric was saying, you're so ingrained with the company when you're over on OnSite  that you're thinking, "Okay, this is how it's always going to be."
And the way they have stuff set up is going to be what you're going to be doing forever and ever. And so when you come over to Services, you're like, "Oh this is normal. This is how it is. This is just how it is in tech." Again, that could be because I came from the apprenticeship directly over to OnSite. So I was still a junior and I didn't know what to expect in tech. So it's nice to see that at least in my opinion, they're both treated the same way.
What is it like working on the Services side of Detroit Labs, Lauren and Jackie? 
Lauren Small:
As I mentioned before, part of the attraction for me to apply for the Apprenticeship and ultimately join Services was the opportunity to learn something new. So in my case, a Swift programming language. For Services, being part of an organization that encourages learning and trying new things is really cool. Unlike some product companies, what is cool about Services is it usually is pretty easy to switch teams. Perhaps there is something another team is working on that you would like to get some experience with. Perhaps a new language, a new framework. It's very easy for you to transition from team to team.
So while working with Services, I would say it's just definitely not just about getting work done, but you are supported and supporting one another. There's the ability to try and learn new things. And I feel like culture wise, you really are encouraged to be your authentic self. And to me, those are some of the highlights of working for Services. One more thing, switching roles and Services is also pretty easy. As I mentioned, Labs is really supportive. So if you want to go from being a QE to a Designer or Delivery Lead to developer, etc., it's all a possibility and the sky's the limit.
Jackie Michl:
For me, working at Services as a Delivery Lead, I've seen a lot of cross team, cross client collaboration which has been really useful. So every single project team and every single client works a little bit differently. So it's really interesting to hear about the challenges and successes or wins that other teams have been having so you can maybe start incorporating some of those processes or communication patterns into your own work. So being at Services has really helped keep my ear open to different forms of being a Delivery Lead and seeing other people's strengths. And it makes connecting with other people who have different strengths than you super easy because you're hearing them talk about their challenges and their wins and things like that.
So that's something that's really nice about Services. And also, like I said before, there's an opportunity to run and drive organizational initiatives for Services that it's kind of exciting to see, to be a part of the organization and not just the project team. That being said, I did actually have a short stint on OnSite. I don't know how many people know that, but I was OnSite for like six months, just like I was Services-OnSite for six months. And then I came back and that was such a phenomenal experience as well. It was so much fun. I was working with a bunch of other Detroit Labs OnSiters and that was such a pleasure to be there. And it was so bittersweet when I left that OnSite team to come back to Services. But yeah, just both experiences are so wonderful.
What do you think makes a successful team member either in Services or OnSite? What are some traits that make someone successful at Labs?
Jackie Michl:
I think we've all touched on this, but curiosity is a big one. I think being interested in what others are doing and asking them about it. Being interested in potential growth opportunities, trying something new and going after it. I think Detroit Labs really caters to those with curious minds.
Eric Blancas:
Yeah. Curious mind, it really actually helps out a lot. And it really shows how much passion you have for the fields. When you're being open minded and you want to learn new tech because within the industry, technology is just always vastly improving and you want to keep up to pace and things like that. So being open minded and wanting to learn new things always, always helps out.
Lauren Small:
I would echo what Jackie and Eric said. I think also being comfortable giving and receiving feedback, positive and critical, which honestly that helps with your own growth. I think for Services, I think liking change to some degree, as I mentioned, you can switch projects at Labs. So usually, I'll say usually in two situations: Your own desire, maybe you want to learn a new tech stack that this other team's using or another reason why you might switch is based on the company or a client's need. So being comfortable with change as well, I think is something helps make a successful team member.
Joe Double:
And to add onto that also being able to be comfortable asking for change because sometimes something isn't right for you. So you have to be comfortable to be able to go to a manager or somebody and being like, "I would like this tweaked because this might work better for me." Being able to be comfortable in that will also help somebody succeed at Labs.
What advice would you give to someone who's considering applying to work at Labs?
Jackie Michl:
I think one thing that I would say is be genuine, be yourself, be honest with where you're at. Everyone has talked about this a little bit, but we're really looking for the person, those soft skills are so important, being who you are is so important. So don't feel this need to oversell yourself or something. I think we really appreciate when folks come into the process just being who they are, really open about their strengths, open about their weaknesses and their growth opportunities. And we love hearing what people have learned from challenging experiences or failures or something like that. Don't shy away from that, show that you've learned and show that you're learning and continuing to grow. Yeah, just be your genuine self.
Any advice in particular for the application process? We talked about the GTKY if someone wants to jump in and explain what that is.
Jackie Michl:
Yeah. So the GTKY is the "Getting To Know You" survey, that's essentially what we at Detroit Labs call our application form. And it's a handful of questions that are centered around getting to know you, and they are about your career and your past. Who you are as a person and they're free forms. So you can answer with a paragraph or paragraphs.
You might not want to be too verbose, but the intention behind that is again, like we've been saying we want to see who you are genuinely. And so take your time with that. Don't feel like you need to write your entire novel or something, but don't rush through it. Take some time and maybe do some self-reflection for each question and think about what you uniquely bring to the table and let that come through in the Getting To Know You application.
Joe Double:
Yeah. Just to add on. The GTKYs are read by people, so when you're filling it out, it's not going into an ATS that's going to be scanned for keywords. People are reading these. So like Jackie is saying, leave yourself on that paper, just put your personality in it.
What does work from home look like for you at Detroit Labs?
Eric Blancas:
I think I can answer this one from a bit of experience here because I recently moved out here to Nevada. So yeah, I worked very remote from home, but I definitely would say that the culture here at Detroit Labs is really, really flexible no matter where you are in that part of the country. It just depends on the project that you're on. And just as long as you have conversations with your manager. They're usually very, very open into what circumstances that you're in need of. And otherwise, work from home is fairly flexible depending on the project that you're on and stuff like that.
Joe Double:
Yeah. I would agree. I've actually found working from home to be much more pleasant than I thought it was going to be. When I first started working even before Labs, I was always one of those people, "I'm never going to work from home. I like being around people all day. I want water cooler chats." But it turns out, I really enjoy working from home. I feel like I get more done. There's fewer distractions. If I want to take some time to go heads down on something, I can. And somebody's not going to pop by and ask a question or knock on a door. It's kind of nice.
Lauren Small:
Yeah, I'm in a similar boat. So when COVID just started, the pandemic, we all had to work from home. I loved it. And then as the pandemic went on, I went, "I hate this. I need to see people." But eventually, when I did start returning to the office, I'm like, "Oh, maybe I didn't like it so much." Because I remember the commute traffic, like, "Okay, I think I can live with working from home." Really, I think communication really helps, like keeping in touch with your teammates, checking in but it's really helpful that there are fewer distractions, and I think I am more productive at home overall.
Jackie Michl:
I can say there's a lot of trust at Detroit Labs, there's not a lot of micromanaging which makes working from home a lot more comfortable. I know I'm saying this while I'm at the office. But it's a personal choice for me to come into the office, there's no pressure. And the reason I come into the office is because my friends are here so I like seeing them every day.
But I really appreciate the amount of trust that Detroit Labs and just like team members give to teams as well. And I think one of the most difficult things about working from home can be setting boundaries with yourself of when does work and my life outside of work begin. And you'll find that teams are really encouraging and supportive of one another. I don't know about everyone else's team, but my team, if someone's on late, and there's no reason for them to be, I'm like, "What are you doing, log off you. You were on early, you should log off." And so you're getting a lot of that work-life balance encouragement from within your team as well.
Are there any apprenticeships coming up?
Rowan Blaisdell:
The answer to that is not right now. I'm actually going to pop a link into the chat for everybody. It's a link to our apprenticeships web page, and it has a form on there that you can fill out to get information about when the apprenticeships are happening. So you can be the first to know when we announce an apprenticeship program, and you can go ahead and get started on your application. 
How do we apply to an apprenticeship?
Joe Double:
Yeah, I can jump in. So from start to finish, I think I actually went to that page and filled out the whole [form]. And so when there was the Java apprenticeship that came up, I filled out the GTKY. Once that was done then you go through rounds of it, it's almost like speed dating, where you go from table to table to table and you answer a couple of questions. It's like feeling each other out. It's like I'm feeling Labs out, and Labs is feeling me out and you're going through that process. And it's kind of whittled down to this group moves on and then this group moves on.
And then from there you go to the apprenticeship, and I can't remember how many weeks it was, but it felt like forever, but it probably wasn't. But you learn so much in the apprenticeship. And some people had experience in programming, other people didn't. It was a nice mix of people. And even when you would run into a problem, you're encouraged to ask questions, you're encouraged to be like, "I don't understand this." Because you might not be the only person that's not understanding something or even if you are the one person that's not understanding something, four or five people in the class might have a different way of teaching you that same thing. And it's a matter of figuring out, "Oh, this is the way I learn," versus the way that this person was showing me. So it's kind of cool.
Lauren Small:
I just remembered, so when I applied it was in person. And when we're doing that the speed dating rounds, like lovers that'd walk around, kind of like seeing how everyone's pairing and that freaked me honestly, I still don't know how I got it. And we were answering a code challenge in a language I had no knowledge of. So as Joe mentioned, you are really strongly encouraged to ask questions. It's really about how you work with people. So keep that in mind.
If you don't have Delivery Lead experience but really see your career path wanting to take you there, what can one do to prepare for a Delivery Lead position at Detroit Labs?
Jackie Michl:
Oh, that's a great question. So one of the first things I would think about is trying to get some just general agile knowledge. So we operate under a project management style called agile. And that's like an umbrella, there's so much underneath it. But trying to familiarize yourself with those types of processes is just useful to get an idea of how the software development cycle works.
Now, agile experience is not a prerequisite to come in as a junior delivery lead or even a delivery lead one or the first tier of delivery lead in our role levels; so don't use that as like, "Oh, I need to learn agile." It's just helpful because it'll help you get your feet wet with why does this role even exist? And what's important about it? Some other skills that to me are really important for the delivery lead role are communication, feeling very comfortable communicating with people form all different backgrounds.
So again, I said we're kind of the liaison between the client and with the team as well. So we need to be able to talk about business requirements from a product perspective, while also being able to think about and translate some technical needs with the team. So that's good experience to get as well. And really just any kind of project management experience. It doesn't even need to be with software development specifically, but just trying to get used to having a goal in mind, with multiple steps, being able to break that down, and plan it out and organize. I could talk forever so I'm going to stop there but feel free to reach out to me, I can pop my email in the chat if you want to talk more.
How do Detroit Labs team members balance curiosity and always having something new with the need to develop tech specializations and moving forward in a career path? 
Lauren Small:
Okay, I'll try to go a stab at this. So I think communication is very important. So for me, talking to your team like, "What are your goals?" Yes, you have your client work you have to get done but at the same time, you also need to develop your own skills. And you do develop your own skills by doing your work, but you need to explore other things as well. So I think communicating with your team about your goals. And being transparent with your time, maybe just setting aside an hour a day to, "Okay, this hour I'm going to be learning this thing."
We also do encourage people to take hack time, a day to hack or to learn or explore. So I think communication is probably one of the biggest drivers with this. And also setting your own boundaries. It might be difficult, you might be like, "Okay, I really should be doing this, but I definitely need to dedicate some time to do this as well." But yeah, communicate, share.
How does Detroit Labs feel about hiring those of us who went to coding boot camps and do not hold a college degree?
Rowan Blaisdell:
So I want to be fully transparent about this. When I'm looking at someone's resume, it is one of the least important things on the list that someone has a degree. I am looking for the years of industry experience that you have, and I'm also looking for your performance in an interview.
So when I talk to you about your ability to give feedback to someone on your team, are you able to provide me with an example where you gave timely, specific feedback in a caring and empathetic way? Are you able to talk about your tech stack in a way that is comprehensive and concise, and gives me a good idea of the types of projects you may have worked on. Those are the most important things to me. And I think a lot of Labs just in general, it doesn't matter whether you have the college degree or whether you did go through a boot camp. And that's one of the things that I actually love the most about Labs is giving people an alternative way to get into the industry, whether it's through those practices or through the apprenticeship program, just opening up doors that might not have otherwise been available if you didn't have certain advantages in your life. So I hope that that answers that question; if I didn't, Pedro and I will be doing more hiring-related Q&A and you can ask more about it too.
Hiring Process: OnSite & Services 
Rowan Blaisdell:
So we're going to switch gears a little bit here. Pedro and I have like six minutes together to talk about jobs. So we're going to talk about the application process at Labs, as well as some of the open roles that we have available right now. But before we get into that, I want to hand it over to Pedro for him to introduce himself to you all since he's just joined us.
Pedro Gutierrez:
Yeah. Thanks. So my name is Pedro and I am Talent Engagement Coordinator here at Detroit Labs. It's a fairly new role that actually came out of seeing some opportunities in our processes that we want to make more consistent across both of our OnSite and our Services assignments. So what I get to do right now is I get to work with our new hires through the onboarding process, also helping to move applicants through the interview process as well. So I get to interact with a lot of wonderful applicants, and I'm excited to share a little bit more about Services.
Could you speak to the Services side of Detroit Labs and tell us a little bit about what the team structure generally looks like on the Services side?
Pedro Gutierrez:
Yeah, in a simplified way I like to share with applicants that when we get a client that comes to us and says, "I would like to build an app." We then go through our Services business unit, and go through those team members to assign them to work with the client. That would work with the client collaboratively through strategy, design and engineering.
When it comes to the general team structure, it was kind of intentional on the way that you built the panel today. You can expect to work with a number of developers like Lauren and Eric, delivery lead like Jackie and potentially quality engineers like Joe for testing, and designers as well, all depending on the client's needs.
What does that application/hiring process look like for Services at Detroit Labs?
Pedro Gutierrez:
Yeah, so we touched on it a little bit already for Services. The first step in applying is the form that we call GTKY, which stands for Getting To Know You and Jackie mentioned, this is a set of questions that help us learn more about you and your experience. Your application is reviewed, as we said, by a designated team of Detroit Labbers across a range of roles within the company. It's not something that's checked by a bot or by computer system auto filtering, there's nothing like that; it's all people reviewing your responses.
And a little bit of what we touched on already, what to look for in your application are thoughtful responses, just as the name suggests that lets us get to know you, and your background in software development. From there, we actually have two interviews, one of which is to help us decide if you would thrive at Detroit Labs, and also is the opportunity for you to decide if you would be a good fit for DL as well.
The second is a more technical assessment. Both interviews are made up of team members from throughout Detroit Labs, from designers to developers. And that's a real quick look into applying for our Services roles.
Could you speak to the OnSite side of Detroit Labs and tell us a little bit about what the team structure generally looks like on the OnSite side?
Rowan Blaisdell:
OnSite is if a client comes to us, and they say, "Hey, Detroit Labs, we're already working on a website or an application, we don't want to outsource the entire thing to Detroit Labs, because we're already building it internally. However, we need some more support, we need some more team members to join us and help us do this thing and make it happen." That's where OnSite comes in.
So myself and the rest of the talent specialist team, we go out into the world, we get inbound applications from people, but also we do some recruiting to find individuals to join our client teams. So OnSite team members are full-time salary Detroit Labs team members, but rather than working like at DL headquarters, they typically work at the client site embedded on the client team. And we also have remote options available too.
That said, team structure can look a lot different for every single OnSite opportunity because every client is going to be structured a little bit differently. So that's something where if you're interested in OnSite, your talent specialists would work with you to describe the specific team makeup and structure of the individual client that you are interviewing with.
What does that application/hiring process look like for OnSite at Detroit Labs?
Rowan Blaisdell:
As far as the OnSite hiring process goes on, OnSite has a shortened version of the GTKY that we have on the Services team, that Getting To Know You form, it's just a couple of questions long. Who looks at OnSite applications? Myself, the rest of the talent specialist team, so Kayla, Mallory, and Matt. We all are reading your applications, reading over your resume and then if we think that the skills and the background that you have align with one of the roles we have opened for OnSite, we email you directly to set up a 30-minute phone call with you to get to know your experience a little bit better.
From there, again, with OnSite having different clients the process after that can look a lot different depending on what clients want to talk to you. So every client has their own interview process, each of those looks a little bit different. Typically, speaking, you can expect some sort of technical assessment from us, followed by a first interview with the client, and then a technical interview with the client. That's pretty standard, but again, can vary from client to client. So that's how the hiring process works for OnSite.
The other thing I want to mention there is that your talent specialists – myself, Matt, Mallory, and Kayla – would be your point person throughout that entire journey, working with you to get all of your interviews scheduled, doing prep with you for set interviews, helping you rework your resume. So we offer this sort of support and then if we get the wonderful opportunity to make you an offer and hire you, we actually get to hand that relationship off to Pedro and he gets to work with you on your onboarding tasks, and all those good things. So a lot of collaboration is happening between the two teams. But that is an overview of both and what those processes look like.
Interested in a career at Detroit Labs? Learn more about current opportunities on our careers page!