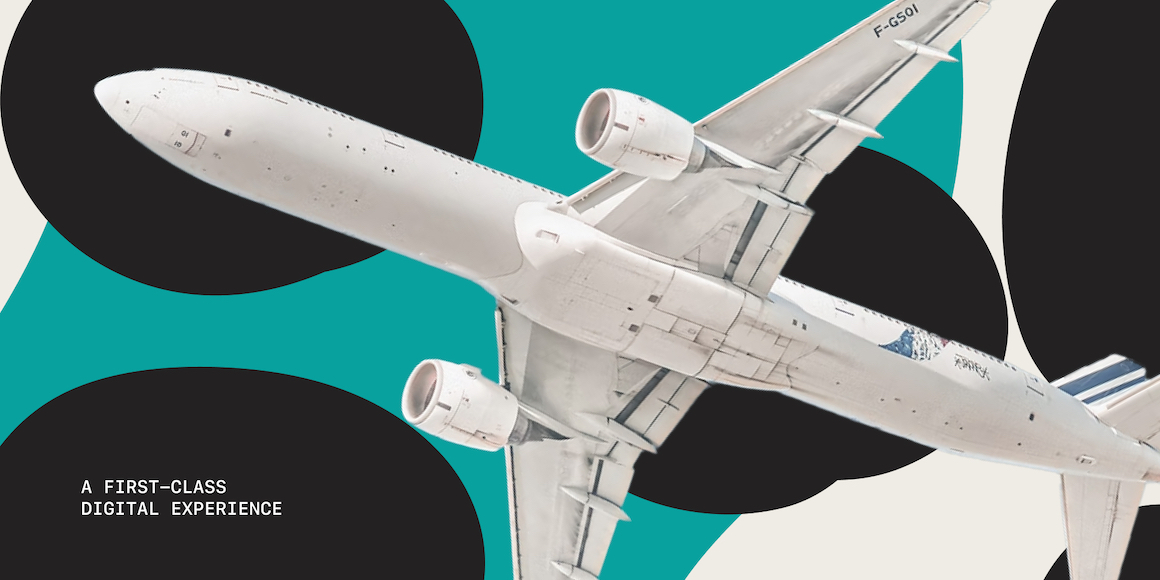 Giving Travelers a First-Class Digital Experience
Aviation and travel tech have gotten a bad rap in the past. Glitchy websites? Missing functionalities? Customers have endured a lot just to book a flight. Luckily, this tech is changing course. Get a then-now-future look at web and app travel tools and how they are elevating the digital experience.
Learn how apps, kiosks, and more enhance guest experiences. >>
Current experience and historical perspective
Before the pandemic, travel tech lagged behind other big industries with outdated tools and websites that had multi-step processes. However, the industry got a quick reality check from COVID-19.
Pandemic growing pains
In general, the travel experience shifted from what it once was—similar to how 9/11 introduced new security procedures for airlines—and customers adjusted with varying degrees of grace. We talked to a few frequent flyers to understand this new reality:
1. How has the pandemic affected your travel experience?
"The only changes I noticed were masks of course in the airport and flights … COVID tests when we went to Mexico to get back into the U.S. Other than that, flights were still full. However, I have heard of friends and family having flights canceled at the last minute." — Nichelle Drake, Company President
"The pandemic had a direct effect on our willingness to travel by plane. Now that we are traveling again, masking in the airport and onboard is a bit difficult with small children, making our experience slightly less enjoyable but still fun." — Emmy Kissinger, Company Founder
"Other than being aware of COVID restrictions in different countries and mask policies on airplanes … nothing otherwise. Fourteen hours straight of masking." — David Kummer, Global O&G Engineer
"The pandemic made me have to cancel one international trip and reschedule another. The masks on planes made the first flight for our five-hour trip way harder on my son." — Caroline Giehl, Business Manager and Avid Traveler
"… There have been some struggles that I haven't experienced prior to the pandemic. The most recent one being a canceled flight due to (I believe) not enough staffing. The toughest part about that experience for me was the lack of other options … When my flight was canceled in March, I was able to change my flight one time on the app with no charge, but I had to reschedule again because there were no rental cars to get me to the other airport, and I had to pay full price since I changed my flight more than once." — Amanda Cushman, Insurance Professional and Avid Traveler
2. Has it made you more or less loyal to airline brands?
"I don't believe the pandemic itself has made me more loyal to airline brands. I use Allegiant whenever I can just because they are always a direct flight and generally cheaper." — Nichelle Drake
"The pandemic has increased my airline brand loyalty. I know what to expect and am very willing to pay more to have the same positive experience again and again." — Emmy Kissinger
"I was already fiercely loyal. But as a caveat … more interested in airlines that have masks policies in effect." — David Kummer
"It did not affect my loyalty, other than the flights I had to reschedule had to be done through the same airline, even though it was no longer the best deal and I had to pay more." — Caroline Giehl
"It has definitely made me realize the value of flying with other airlines that have more flight options. We really all felt like Allegiant left us on an island … I ended up messaging them on Facebook and finally heard back two weeks later." — Amanda Cushman
3. In what ways, if any, would you like to see the aviation industry change its technology?
"I'm sure the opportunities for improvements are endless! I know personally I love having the TSA pre-check, because I can get to the airport and to the gate in less than 15 minutes, so that cuts off a lot of wasted time." — Nichelle Drake
"I would love to see all airlines offer updated back-of-seat video monitors. These make our flight so much easier because the kids are happy and we don't have to juggle individual tech devices (iPads) for each child to ensure they will sit quietly while traveling." — Emmy Kissinger
"They track bags (active tracking), which is a new technology that should be used across the board." — David Kummer
" … airlines' apps being connected with rental car companies so that there is easier coordination of flights and rental cars when things like this happen in general." — Amanda Cushman, Insurance Professional and Avid Traveler
Leaning into digital technology
Today, the digital experience matters more than ever, and apps are increasingly important. You've probably done it: Picked up your phone, tapped your favorite travel app, and let it do the travel logistics work for you. Apps are getting better every day, helping consumers:
Compare prices
Purchase upgrades
Book flights
Check flight status
Of course, mobile apps only scratch the surface of how travelers are using technology. It's a whole new world of convenience and digital immersion, starting with:
Digital and contactless services: Remember waiting in long airport check-in lines? Customer-facing services are being replaced with technology-assisted options, such as mobile check-in and contactless payments, saving time and freeing up employees.
Virtual and augmented reality: Where do you catch the tram? Where the heck is Gate C? Virtual tours and directions around airports get travelers headed in the right direction.
With all of these digital experience tools already in play, what else could the travel industry do to improve?
Improvements to the industry
As travel technology continues to grow, the only direction to go is up. Digital customer experience (CX) programs could pave the way for future industry success. These programs would digitize the customer experience to enhance engagement and simplify travel, including pre-trip safety information, convenience features, and opportunities for customer loyalty.
Go all the way on digital experience
To fully benefit travelers, your digital experience features have to prioritize users. Put any change or enhancement through the lens of the customer journey to ensure it creates ease and consistency—not friction.
Example: Mobile check-in without mobile ticketing (i.e., you still have to print your ticket at the airport) isn't very convenient.
Make the whole experience digital—from booking to check-in to ticketing—and remember that travel goes two ways. Create a similar experience as the customer's trip ends.
To give your new strategy a boost, incentivize your users. Free or discount offers for downloading your travel app go a long way toward speeding up the adoption of comprehensive digital experiences!
Travel apps that allow you to BYOT
So who's getting it right and leading the pack in providing a positive digital experience for today's travelers? As the earliest group to dig into app technology even before the pandemic, some of the biggest airlines are setting the standard:
Southwest Airlines
Their website might have gotten off to a rocky start (not so responsive), but Southwest Airlines' mobile app answers customers' most burning needs. The choose-your-own-seat airline offers a host of digital experience features, including:
Early bird check-in
Flight booking and car rental
In-flight entertainment portal
JetBlue
JetBlue makes flying a breeze. From booking to beverages, the airline gives travelers what they need to navigate from point A to point B in style, with:
Flight booking and car rental
Entertainment such as movies, DirecTV, and SiriusXM
Snack and drink menus
American Airlines
American Airlines covers all its bases to make traveling easier. We're talking about eliminating service lines and expanding in-flight entertainment to include the latest in streaming and educational content. American Airlines overhauled its digital experience at the onset of the pandemic to meet changing flyer needs, including:
Contactless check-in
In-app bag checks
In-flight Wi-Fi portal
The future of travel is digital
Today's travel technology is about more than booking flights. It has a place before, during, and even after travel. As options become more widely available and companies like yours see widespread tech adoption, you can use customer data to tailor experiences to travelers' needs and preferences.
Consumers are already digitally-oriented. Deliver first-class digital experiences to make travel seamless and entertaining.
Are you looking to explore best practices when it comes to digital experiences? Check out The Evolution of Traveler Expectations and Tech in Hospitality today.