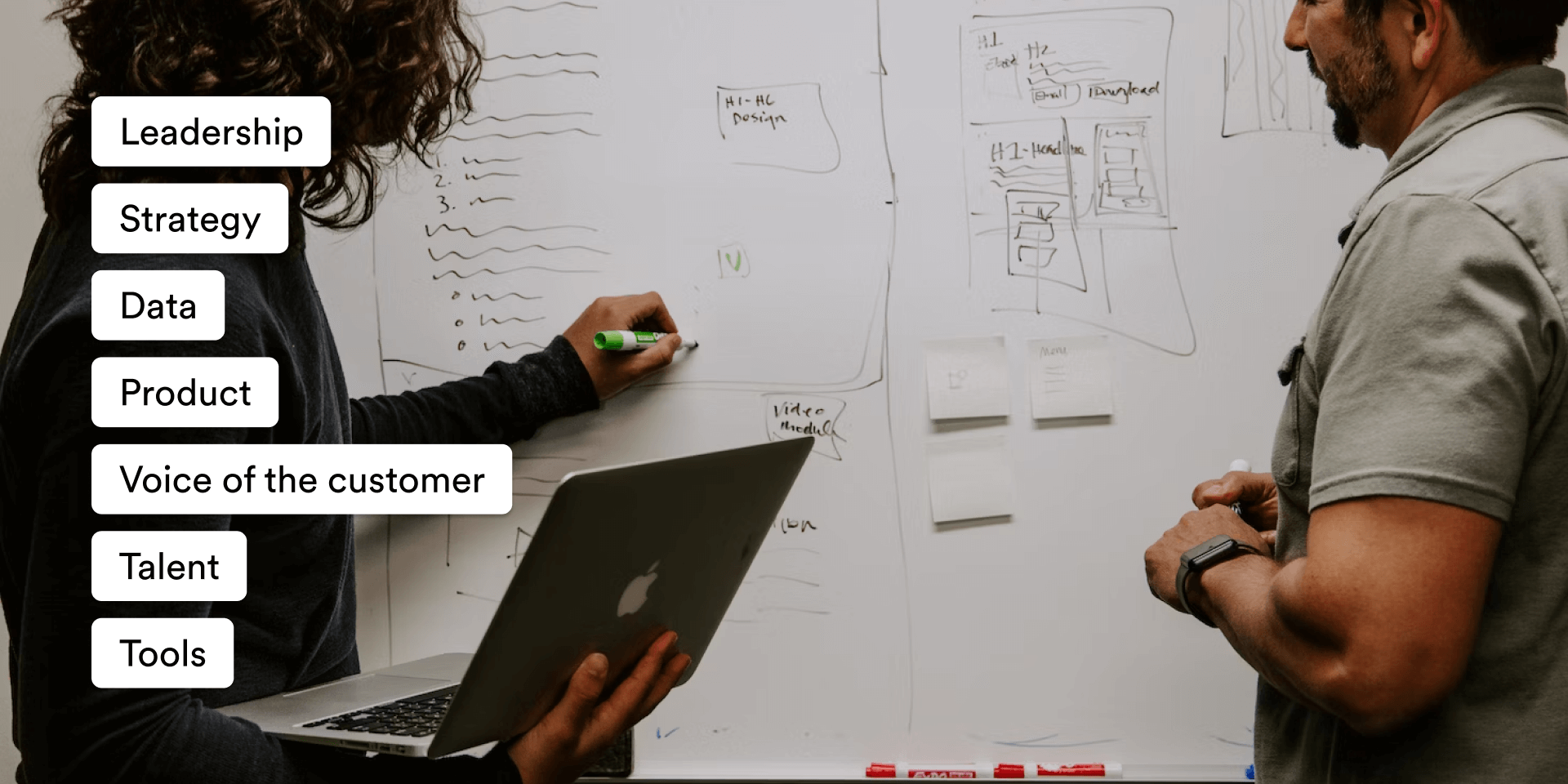 Webinar Recap: Connecting Digital Maturity and Transformation
Manual is out, digital is all in. One term we all keep hearing is "digital transformation." It's about improving and adopting digital products. It's about answering customers with solutions that match where the world is headed. Your website. Your app. And all manner of tools that make life easier—AI, anyone?
Dan Ward, co-founder and president of Detroit Labs, recently weighed in on transformation and what sets it up for success: digital maturity. His webinar, Closing the Digital Maturity Gap and Unlocking Accelerated Digital Transformation, touched on seven keys to digital maturity and transformation. Keep reading for the highlights on each one.
Leadership
Transformation requires leadership buy-in. Innovation and transformation sound wonderful. But a sign of digital maturity is that leadership is on board with supporting the team and doing the work to integrate technology.
That's because leaders enable teams to succeed or fail, whether from their access to resources, guidance on budgets and the like, or from giving room to make mistakes and improve. They act as champions for teams, picking you up when you fall and celebrating when you succeed.
Strategy
What's the value of transformation? You need to understand how transformation can improve interactions between your organization and customers. Can you improve the customer experience?
Transformation starts as a walk, not a sprint. Having a strategy means tweaking and changing small pieces over time to form a new way to interact with and help customers.
Data
If you only have one data source, you can only tell one story. But that's why it's important to integrate data across systems. Part of digital maturity means being ready to go to the next level. By bringing in data from a content management system, customer relationship management software, enterprise resource planning system, and more, your organization gets more opportunities to see the bigger picture.
"More is better" can be true if you use your large volumes of data to your advantage. By pulling in data from multiple sources, your organization can leverage opportunities to tell a story or form new solutions.
Product
There's a difference between transactions and interactions, but they both matter to your digital products. An interaction is a high-touch opportunity to connect with a customer via face-to-face or customer service, while a transaction is a low-touch action customers want to take.
But which makes more sense to digitize?
Out of the two, transactions are ripe for digital experiences. Customers don't need to spend time with you to pay a bill when they can pay online. But interactions represent opportunities for relationships and loyalty—and that human touch is something you can't fully replace digitally.
All in all, take the time to separate the two and identify opportunities to grow and change.
Voice of Customer (VoC)
"Everyone's our customer" isn't a realistic approach to running a business. Maybe in a perfect world, everyone would need your products or services. But in reality, your organization fills specific needs for a particular group.
So you need to key in on customer personas and ask the hard question: "Who am I doing this for?"
Dan made a valuable point about VoC during the webinar, saying you need to know your audience because, "Otherwise, you're going to get in a trap of building something for everybody that you'll never get done."
As hard as it may be, leaders need to check their egos at the door. Your focus should be on customers over what you think is best. That means understanding who they are, understanding how they're interacting with you, and drawing inspiration on new ways to make their lives easier.
Talent
But digital maturity and transformation can't progress unless you have the right people in your organization. You need to assess employee proficiency gaps to decide how, where, and when to invest in your talent.
The decision could be as clear-cut as choosing whether to hire or re-skill and train the current team. The only way to make any transformation successful is by investing in people who in turn invest in your vision—because successful companies, products, and services only exist with talented people.
Tools
Implementing the right tools—for your team and for customers—is a telltale sign of digital maturity and your readiness for digital transformation. Of course, internal and external tools serve different purposes.
Internal tools could start with a domain or social handle, but often center on communication to help your team function. Email, Slack, and project management systems keep everyone in lockstep and headed in the same direction.
External tools matter more to customers and accomplish your shared goals. So you start by answering questions like "What's the right tool for the job?" and "What are you trying to accomplish?"
To make it easier, Dan says to think of it this way: Mobile is an extension of your brand, while web is a destination. So deciding between digital tools can be as easy as considering how often users will need them. Mobile tools are best when users will interact with the product every day, while web tools are ideal when users interact sporadically but need access to more information.
Digital Transformation Starts with Digital Maturity
Digital transformation is a process, and your organization needs to be digitally mature to keep growing. AI is here to stay, consumer expectations are shifting, and you need to keep up. That all starts with putting the right building blocks in place—from leadership to data and talent.
Curious where your organization falls on the digital maturity spectrum? Take our digital maturity assessment. And to hear Dan's take on transformation directly, tune into the full on-demand webinar!